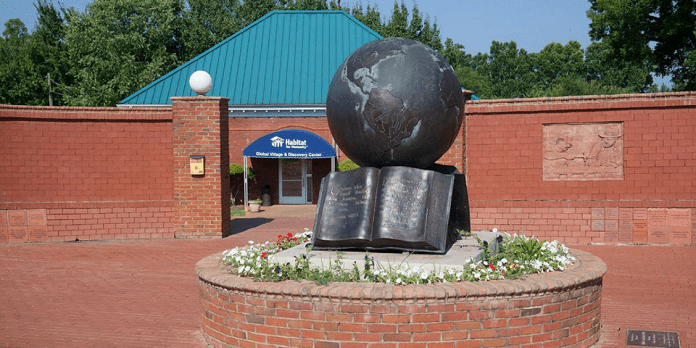 Have a travel bucket list that's been neglected lately? Catch up and cross off multiple items in Americus and Sumter County, Georgia, a getaway full of surprises and inspiration. Located in west-central Georgia, three hours south of Atlanta off I-75 and only two hours north of I-10, the area offers ideal stopping points en route to Florida. Here, discover delightful small towns where homegrown efforts launched big-impact global initiatives.
War and Peace: Visit two National Historic Sites and pray with a President
Sumter is one of only three counties in the United States with two national historic sites. Explore Andersonville National Historic Site, where 45,000 Union soldiers were held and nearly 13,000 died in horrific conditions. Pause to reflect at the National Cemetery; the National Prisoner of War Museum tells stories of Andersonville and honors those throughout American history. Visit the Jimmy Carter National Historic Site in Plains, and see how a rural life of farming, church and school influenced the future 39th President of the United States and Nobel Peace Prize winner. Attend a service at his place of worship, Maranatha Baptist Church, or sign up for attendance at his Sunday School class.
See How a Farm grew Affordable Housing and Fair Trade
The roots of social change run deep at Koinonia Farm, founded in 1942 as an intentional farming community where residents could live affordably in racial equality, sharing their faith and resources. Tour its working farm, have lunch at the farm store and learn how Habitat for Humanity International and other social and economic programs were launched here.
From its grassroots beginnings at Koinonia, Habitat for Humanity has blossomed into a major global nonprofit with housing initiatives in more than 70 countries. Tour Habitat for Humanity's Global Village & Discovery Center and see the organization's vision come to life in a six-acre village of 15 life-size Habitat houses from around the world.
Cross the street for an eye-opening coffee break at Café Campesino. Savor a coffee-tasting or class while learning how fair-trade practices can help indigenous farmers earn a living. The co-founders were inspired to create this artisan roastery after a Habitat for Humanity project in Guatemala.
Americus: Art, architecture, ghosts, dining and dreaming
In downtown Americus, stroll a revitalized town that honors the old and celebrates the new.
Take in a demo or immersion class in the magical art of glassblowing. Mobile Glassblowing Studios builds and ships mobile glassblowing units, revolutionizing the art. The studio also has a small gallery and hosts events, workshops and more. Nearby, Devon Cole operates Hot Glass Academy, where he travels to provide in-depth classes. Experience the art first-hand: Plan your visit during the Hot Glass Craft Beer Festival in April, featuring the world's largest gathering of hot glass blowers, Georgia breweries, unique tasting glasses and demos all day long.
Built in 1892 to attract Northern "snowbirds," the massive, castle-like Windsor Hotel is a fully-restored Victorian-Moorish architectural beauty with towers and turrets, balconies and a three-story, open atrium lobby. The benevolent ghosts of a housekeeper, her daughter and a beloved doorman have been detected. Have an elegant dinner at Rosemary & Thyme or a drink and appetizer at Floyd's, the doorman's namesake pub. Stay: No two rooms are alike, from the circular Bridal Suite with private staircase and demi-canopied King bed to the well-appointed Chamber Rooms.
If you go…
Board the vintage 1949 cars of the air conditioned SAM Shortline Excursion Train. Check the schedules for weekend rides to explore rural landscapes and the historic towns of Americus, Plains, Leslie and Archery. Hidden surprises await. At the Georgia Rural Telephone Museum, the worlds-largest collection of antique rotary telephones and memorabilia will shock the under-20 crowd speechless.
Americus and Sumter County are also known for a satisfying number of sweets, snacking and dining options. For more on what to experience and where to stay in Americus and Sumter County, Georgia, go to www.VisitAmericus.com.
---
On the road? Why not take us with you. Our websites are mobile-friendly! Visit our growing family of exit guides: I-4 Exit Guide, I-5 Exit Guide, I-10 Exit Guide, I-75 Exit Guide, and I-95 Exit Guide. Detailed exit service listings… discount lodging, camping, food, gas and more for every exit along the way!