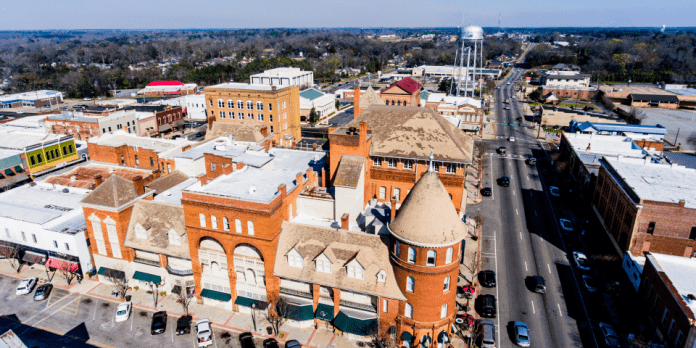 Located in west-central Georgia, convenient to I-75, three hours south of Atlanta and just two hours north of I-10, Americus offers an array of events and cultural experiences making the area a must stop destination this fall. As the weather starts to cool, visitors can't get enough of some of the area's most beloved festivals and events. Here's a taste of what's to come this fall in Americus.
Americus Music Festival
Building on the success of the first year, the second annual Americus Music Fest is expected to be bigger and better this year. Held at the historic Jackson Street Depot October 21, all genres of music will be featured in this popular free event, from rock to country, hip hop to soul, jazz to blues and more in between. For the second year the Food Truck Fest will return to Jackson Street. This year the Americus Arts Council will host an Art Fest down Finn Street in the Americus Arts District and a MEGA Kid Zone will be positioned on the green. The SAM Shortline Excursion Train will offer trips to and from Plains, as well as a ride from the park to Americus to enjoy the festivities. Don't miss this one-day event happening 10 a.m.-11 p.m., October 21.
Americus Taste of Sumter
Another beloved fall event is Taste of Sumter, one of Americus's largest events, September 28. Festival goers will enjoy live entertainment, local restaurants and food vendors along Jackson Street and lots of family friendly fun. Taste of Sumter is an annual event held on the last Thursday of September.
Cultural Experiences in Americus
In 2019, the Americus-Sumter County Movement Remembered Committee received the first of two $500,000 grants from the National Park Service (NPS) African American Civil Rights Preservation Fund, to rehabilitate and preserve the Historic Americus Colored Hospital building. Opening in 2023, the new Americus-Sumter County Civil Rights and Cultural Center will be home to the history of the Americus Colored Hospital (1923-1953), which became a gathering point for the Americus-Sumter County Civil Rights Movement (1962-1966).
Included in this collection are a treasure trove of photographs, letters, articles from the media, records from the jailing of local activists, memorabilia and field reports from civil rights workers representing the three major groups working to end segregation and to establish voting rights during the period: the Southern Christian Leadership Conference (SCLC); the Student Non-Violent Coordinating Committee (SNCC) and the Congress of Racial Equality (CORE). The center's archives will demonstrate the invaluable contributions of African American families throughout Sumter County prior to and during the Americus Movement. The new campus will ultimately include a community garden and community health clinic, both supported by the Phoebe Putney Hospital Authority.
Another cultural gem is the Rylander Theatre, built in 1921 and operated as a Vaudeville theatre just a few blocks from the Windsor Hotel. Restored in 1999 to its Art Deco style, the Rylander features a rare, working 1928 Moller Theatre Pipe Organ. It celebrated its 100th anniversary in 2021 and is offering an impressive lineup of plays and performances for 2023. Click here for a list of upcoming performances. Rylander Theatre, 310 West Lamar Street, Americus, Georgia 31709; 229-931-0001
Where to Eat in Americus
Small, locally owned dining establishments are a big part of what makes Americus so special and you definitely won't leave hungry. Start your day at Café Campesino, Georgia's first and only 100% fair trade, organic specialty coffee company. Founded in 1998, Café Campesino is a cooperative importer, roaster, wholesaler distributor and online retailer all in one. Located in the heart of Americus, just nine miles from Plains, patrons can stop in for a cup of joe and browse the many varieties available in the shop. Café Campesino, 725 Millard Fuller Boulevard, Americus, Georgia 31709; 229.924.2468
Known for their "always fresh" menu items, Little Brother's Bistro is a perfect spot to grab some lunch. From homemade pimento cheese sandwiches and refreshing wraps to muffulettas, salads, soups and paninis, there's no way you can go wrong with anything on the menu! Following lunch, head to Sweet Georgia Bakery and Café for homemade Southern delicacies that are sure to knock your socks off. Don't miss the Buttermilk Pie, Devil's Food Cake, Peach Tarts and more. There's no way to go wrong. Little Brother's Bistro, 123 West Lamar Street, Americus, Georgia 31709; 229-410-9827; Sweet Georgia Bakery and Café, 134 West Lamar Street, Americus, Georgia 31709, 229-380-0439
Indulge in Victorian elegance for dinner at Rosemary & Thyme. Located within the Historic Windsor Hotel, in the heart of downtown Americus, Rosemary & Thyme celebrates the Victorian era from top to bottom. The original tile floor, wrought-iron footed tables and furnishings reflecting the Victorian period create quite an elegant ambiance. Diners delight in a flavorful modern American menu featuring the freshest ingredients and seasonal favorites. Rosemary & Thyme, 125 West Lamar Street, Americus, Georgia 31709; 229-924-1555
Where to Stay in Americus
Whether you are visiting Americus or planning a hub and spoke adventure, Americus and the surrounding area is home to many great lodging options with proximity to many area attractions. Think Andersonville National Historic Site, Jimmy Carter National Historic Park Grounds, Lake Blackshear, the SAM Shortline Excursion Train and more.
Located in the heart of downtown Americus, the Historic Windsor Hotel was built in 1892, to attract winter visitors from the north. The Windsor was a 100-room, five-story Victorian masterpiece architecturally designed with a tower and turret, balconies and a three-story open atrium lobby. The hotel occupies nearly an entire city block and was the site of numerous balls and celebrations over many decades and after nearly 80 years in operation, the hotel closed its doors in 1972. In 1991, the hotel re-opened after a $6.5 million dollar renovation. Historic Windsor Hotel, 125 W. Lamar Street, Americus, Georgia, 31709; 229-924-1555.
History lovers will fall for the Americus Garden Inn. This historic bed and breakfast was built before the Civil War in 1847 and is situated on Rees Park within Americus's beautiful residential historic district and among many fine homes of the Victorian era. The Americus Garden Inn Bed and Breakfast offers seven spacious comfortable air-conditioned rooms, in-room private baths and several guest amenities. Americus Garden Inn, 504 Rees Park, Americus, Georgia, 31709; 229-931-0122
For more on Americus, visit VisitAmericusGA.com.
---
The I-75 Exit Guide is the Internet's largest and most complete website dedicated to Interstate 75 travelers. Find detailed exit service listings… lodging, camping, food, gas and more for every exit from Michigan to Florida!
On the road? Why not take us with you. The I-75 Exit Guide is mobile-friendly and totally FREE. No App Required.
Traveling another route? Visit our growing family of exit guides:  I-4 Exit Guide, I-5 Exit Guide, I-10 Exit Guide, I-75 Exit Guide, I-80 Exit Guide and I-95 Exit Guide. Detailed exit service listings… discount lodging, camping, food, gas and more for every exit along the way!