Please feel free to take a look around. All you need to do to start participating in our online community (posting questions, answering other posts, etc.) is to register a forum account.
It's easy, and free to register. Just click the link below. Once you do, you'll receive an email verifying your registration so please make sure to use a valid email address.
I-75 Exit Guide Forums
If you're new to our forums, stop here first!
Topics: 1

|

Posts: 1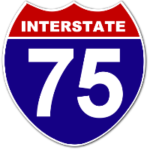 What bugs you most about other drivers? Sound off here. It's the next best thing to being there!
Topics: 2

|

Posts: 3
Exit Services
Last Post Info
Theme Parks, museums, zoos and other attractions along I-75.
Topics: 8

|

Posts: 10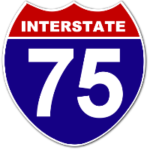 RVing down I-5? Join fellow travelers here and discuss RV and camping related issues...7
Topics: 3

|

Posts: 5
Travelers post their comments and questions about gas and fuel stops along I-75 here.
Topics: 1

|

Posts: 3
Virtually every hotel chain has a presence on I-75. Post questions and get answers here.
Topics: 1

|

Posts: 3
Who says you can't find good food on the road? Travelers post their best food stops along I-75 here.
Topics: 5

|

Posts: 16
Getting There
Last Post Info
Ask about or share your short cuts, alternate routes and side trips with fellow road warriors here.
Topics: 4

|

Posts: 12
Nothing puts the damper on a roadtrip like a traffic jam. Ask questions or help your fellow travelers here.
Topics: 38

|

Posts: 41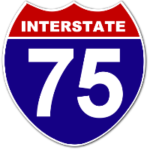 Kids and pets on a road trip isn't necessarily a bad thing...
Topics: 2

|

Posts: 2
Travel safe by being aware of your surroundings. I-75 travelers offer safety advice here.
Topics: 1

|

Posts: 1