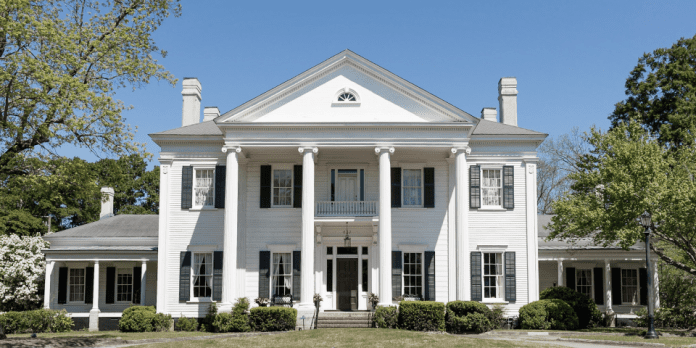 Visiting small towns is a tourism trend that continues strong as travelers seek out interesting architecture, history, arts and dining in less-crowded, welcoming destinations. Located just 10 miles west of I-75, Griffin, Georgia, perfectly fits the profile: tree-lined, small-town charm, stately historic homes, diverse history and heritage and a thriving dining and arts scene in a commercial district full of restored and re-purposed buildings. It's also the birthplace of Doc Holliday and the film site of over 100 movies and television series. From its railroad boomtown roots in the mid-1800s, Griffin and Spalding County became a cotton distribution center and then a leading textile manufacturing center before evolving into a destination for architecture and history getaways.
The area is a treasure trove for architecture-seekers, revealing styles from Art Deco to Georgian and Gothic Revival to Italianate. The National Register of Historic Places lists 16 structures as well as the eight city blocks of the Griffin Commercial Historic District, some of which houses its historical society and flourishing arts scene.
It's easy to peruse this city with a small-town vibe. The unique and sensible city grid system was established in 1840 by a former military general and railroad builder. The area contains a surprisingly large number of historic properties, designed by noted architects from Atlanta and elsewhere.
Their bios and works are outlined in these architectural heritage pages along with plenty of details. Click on the four curated, self-guided architectural driving tours that take visitors from the tree-lined Downtown Griffin Historic District to the winding country roads and gentle rolling hills of Spalding County, where the main structures of former farms and old homeplaces still proudly stand. All four tours start and end at the distinctive central clock at the corner of Hill and Solomon Streets.
Sites to See Among the commercial district sites are a Gothic church, the c. 1810 red brick Griffin City Hall and the Original Courthouse of Spalding County, designed in the Italianate style in 1859 and only one of fifteen remaining antebellum courthouses in the state. Trace the remnants of the old mill town and admire the elegant Marian Apartments. Eight homes (six still privately occupied) are listed on the National Register of Historic Places in Griffin and Spalding County, and there are plenty of others that will delight the eye.
Several noted buildings are open to the public. Built in 1894, the year that Enrico Caruso made his operatic debut, the Griffin Opera House was built by the Odd Fellows and hosted everything from minstrel shows to vaudeville to silent movies. It's been revived and decorated to reflect its original décor and now features stand-up comedy, dinner theater, live music and more. (102 N. Hill Street, Griffin, Georgia, 770-688-7188)
Completed in 1862, the Greek Revival Bailey-Tebault House and was also used as a Civil War hospital and is on the National Register of Historic Places. The Griffin-Spalding Historical Society owns and operates The Bailey-Tebault House where it continues its mission "to preserve and share the history of Griffin and Spalding County and to promote the preservation and use of their historic structures." Tours are available by appointment at least 48 hours in advance; suggested $5 cash donation. (633 Meriwether Street, Griffin, Georgia; 770-229-2432.)
Even the visitors center is housed in a historic building. Built in 1899 as a grocery distribution warehouse, the Griffin Regional Welcome Center provides ideas for entertainment, dining, shopping and accommodations, along with the Griffi¬n-Spalding Art Association's art gallery of regional works. Upstairs and ADA-accessible are public archives and the Griffin Museum, containing an impressive array of artifacts and memorabilia dating from as far back as the mid-1800s, including the Doc Holliday Museum. (143 N. Hill Street, Griffin, Georgia; Monday-Friday 8 a.m.-5 p.m.; 770-228-8200)
Doc Holliday Festival Griffin-Spalding is home to the Western figure John Henry "Doc" Holliday, the area's native son. The legendary gunslinger grew up in Griffin and later returned after dental school before heading west to Texas. Visitors can see his birthplace, dental office and grave sites. For a festive atmosphere, plan a visit around September 9, 2023 for the annual Doc Holliday Festival and BBQ Championship, which includes reenactments, local vendors, family entertainment and more, all in Griffin City Park. The barbecue competition is a Georgia BBQ Association event. https://www.dochollidayfest.com
For more ideas on what to do in Griffin and Spalding County, visit https://www.exploregeorgia.org/things-to-do/list/things-to-do-in-griffin-georgia-doc-hollidays-hometown
If You Go
Adding to the charm are downtown Griffin's beautifully-executed murals depicting the town's railroad, aviation and diverse history. Griffin and Spalding County features unique shops offering antiques, apparel and gifts, 2nd Saturday events, Summer Concert Series, and Movies in the Park. Among the more than 20 cafes and restaurants, many locally owned, those in the Arts and Entertainment District offer to-go alcoholic beverages, ages 21+ and up, for strolling the streets from 4 p.m. to midnight daily. The downtown area also offers over 900 free public parking spaces.
Griffin-Spalding has a wide variety of lodging options, including downtown. Whether it's a historic loft, a bed and breakfast or a traditional hotel experience, there are plenty of choices to make your trip memorable. Among the many area VRBO and Air B&B options is Historic Brookfield Estate. This 1875 Italianate-Federal style home, with its well-appointed rooms, vacation cottages and its intact outbuildings and gardens, is the perfect place to recharge for another day of exploring. (1590 Carver Rd., Griffin, GA 30224; 770-851-3714)
---
The I-75 Exit Guide is the Internet's largest and most complete website dedicated to Interstate 75 travelers. Find detailed exit service listings… lodging, camping, food, gas and more for every exit from Michigan to Florida!
On the road? Why not take us with you. The I-75 Exit Guide is mobile-friendly and totally FREE. No App Required.
Traveling another route? Visit our growing family of exit guides:  I-4 Exit Guide, I-5 Exit Guide, I-10 Exit Guide, I-75 Exit Guide, I-80 Exit Guide and I-95 Exit Guide. Detailed exit service listings… discount lodging, camping, food, gas and more for every exit along the way!