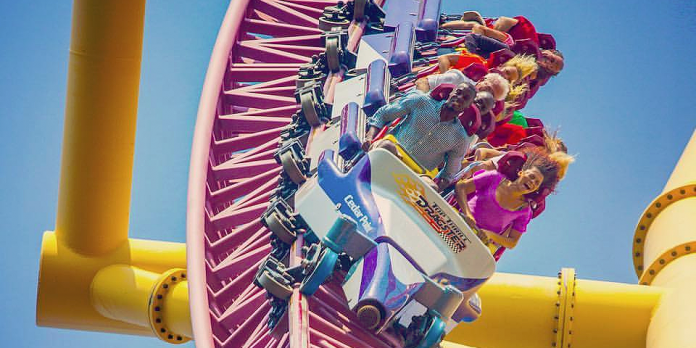 From the wonder of nature and blood-pumping excitement of thrill rides to the anticipation of new craft brews and joy of 50-year-old music and memories, there is no better place than Ohio to connect with the people who mean the most to you in 2017.
For more travel ideas and inspiration, visit Ohio.org. Download the free "Official Ohio Travel Guide by TourismOhio" app for easy access to everything you need to explore Ohio.
Legends of our Galaxy and Beyond!
Star Wars™ and the Power of Costume at the Cincinnati Museum Center, Cincinnati (May 25-Oct. 1, 2017)
Let your imagination run wild, and embrace your inner Jedi at the Smithsonian Star Wars™ and the Power of Costume exhibit. Check out more than 60 costumes worn by your favorite characters including the menacing black mask of Darth Vader, the gilded suit of C-3PO, the yak and mohair costume of Chewbacca, lavish royal gowns of Queen Amidala and more. Immerse yourself in George Lucas's fantastical world and get to know the designers who brought the Star Wars characters to life.
John Glenn Astronomy Park, Hocking Hills State Park (Opening Late 2017)
Follow in the footsteps of an American hero who touched the stars at the John Glenn Astronomy Park. The park will feature awe-inspiring views of the night sky in a natural setting far from city lights. Just north in New Concord, visitors can stop at the John & Annie Glenn Museum to tour Glenn's boyhood home during this year's 55th anniversary of his mission as the first American to orbit the Earth.
Rock & Roll Hall of Fame "50 Years After the Summer of Love," Cleveland (Opening May 31, 2017)
Relive the memories of 1967 with "50 Years After the Summer of Love" at the Rock & Roll Hall of Fame. Discover how artists like Janis Joplin, the Grateful Dead, the Doors and the Jimi Hendrix Experience emerged during this time and continue to influence music today.
Thrill Seekers Paradise
Mystic Timbers at Kings Island, Mason (Spring 2017)
The anticipation will build as you make your way to Kings Island where a new roller coaster, Mystic Timbers is lurking in the woods! Reaching a height of 109 feet, the wooden coaster has 3,265 feet of track that will take riders spiraling through the forest, plunging down ravines and rocketing over water at speeds up to 53 mph.
Cedar Point Shores, Sandusky (Spring 2017)
Thrill seekers will enjoy an exhilarating day at the all-new Cedar Point Shores waterpark. The 18-acre park features your favorite water slides and pools from the past as well as four brand new attractions, including Point Plummet, a six-story, near-vertical aqua-drop body slide. Prepare to plummet when the floor drops out from beneath you!
Akron Zoo Curious Creatures Exhibit, Akron (Opening June 2017)
Embrace the bizarre and celebrate the strange at the Akron Zoo's new Curious Creatures exhibit. Here you can meet weird and unusual species like naked mole rats, red-eye tree frogs, walking batfish, flashlight fish and Venus flytraps. Twenty exhibits will plunge visitors into the realm of biodiversity and animal adaptation.
Explore the Outdoors
Lake Erie Canopy Tours at Geneva State Park, Geneva-on-the-Lake Lodge  (Summer 2017) Get your heart racing as you soar through the treetops at the Lodge at Geneva-on-the-Lake's Lake Erie Canopy Tours. This zip line and aerial bridge adventure will provide unique views of nature and Lake Erie from the treetops of Geneva State Park. Take a guided zip line canopy tour or the self-guided challenge course, and there is even a challenge course of kids.
BLINK Cincinnati, Cincinnati (Oct. 12-15, 2017)
Take in awe-inspiring displays at the inaugural BLINK art and light festival. Bring the whole family to experience this large-scale light festival featuring light displays, sculptures, interactive exhibits and murals spanning 20 city blocks.
Bicentennial of Historic Zoar Village, Zoar (2017)
Delve into the culture, art and architecture of the Zoarites as Zoar Village celebrates its bicentennial and recent designation as a National Historic Landmark. Experience village life as it was lived by 200 German Separatists who left their homeland in 1817 to create one of America's most successful communal settlements. Today, about 75 families live in the village that comes to life through living history demonstrations, beautiful gardens, 19th-century buildings and traditional crafts to try for yourself. Special events will be held throughout the year to celebrate the Village's 200th anniversary.
Beer and Spirits
Brewery Openings and Expansions, Statewide (2017)
Ohio continues to add to its more than 190 craft breweries across the state, and currently ranks No. 4 among states in craft beer production with many more breweries scheduled to open in 2017. HiHo Brewery Co. in Cuyahoga Falls, and Masthead Brewing Co., in Cleveland, are just two of Ohio's newest breweries.
Distilleries Expand with New Restaurants and Production, Columbus (2017)
Looking for dinner with your cocktail? A revision to Ohio law allows distilleries to serve food and drinks so you can now sample your favorites at Middle West Spirits on-site or pair a tasty dish with a beverage at Watershed Distillery following their respective expansions.
Cincinnati Brewing Heritage Trail, Cincinnati and Summit Brew Path, Akron (Throughout 2017)
Cincinnati will showcase its storied history of brewing with the Cincinnati Brewing Heritage Trail. Take a tour through the historic Over-the-Rhine neighborhood to visit the area's iconic breweries from today and years past. The Summit Brew Path in Akron leads visitors on a journey of the area's current and soon-to-be open breweries, highlighting the growing Northeast Ohio craft beer scene.
About TourismOhio
TourismOhio, operating within the state of Ohio's Development Services Agency, works to ensure Ohio is positioned as a destination of choice, enriching lives through authentic travel experiences. The branding Ohio. Find It Here. supports Ohio's $42 billion tourism industry. For more, visit Ohio.org.
---
For more I-75 construction info, visit  www.i75exitguide.com, the Internet's largest and most complete website devoted to I-75, America's Interstate Main Street. Detailed exit service listings… discount lodging, camping, food, gas and more for every exit from Michigan to Florida! Plus I-75 construction, real-time traffic and road news.
Traveling another route? Visit our growing family of exit guides: I-4 Exit Guide, I-5 Exit Guide,  I-10 Exit Guide , and I-95 Exit Guide.