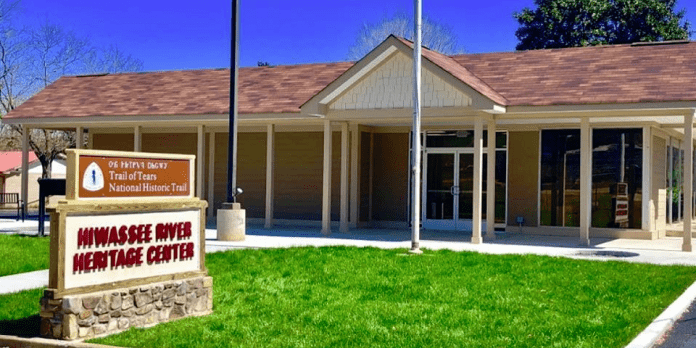 The expansion of the Hiwassee River Heritage Center and the National Historic Trail Experience in Charleston (I-75, exit 33) is officially open to the public.
Owned by the Charleston-Calhoun-Hiwassee Historical Society, the Hiwassee River Heritage Center first opened in May 2013 always with the intention of expanding to add an exhibit hall and an education room. With many community-minded donors and supporters, the George Robert and Doris Bolen Johnson Exhibit Hall and the Carl E. Colloms Education Room are complete. A list of donors is displayed at the heritage center with a major supporter being the USDA – Rural Development.
The curator of the exhibit is the team from the Center for Historic Preservation at Middle Tennessee State University lead by Amy Kostine with assistance by Dr. Carroll Van West, Savannah Grandey and Stefanie Haire. The exhibit features extensive information beginning with pre-Cherokee native peoples goes through Cherokee settlements, the federal Indian Agency, Fort Cass and the Cherokee Removal. The exhibit also examines Charleston and Calhoun's role in the Civil War and after through industrialization.
Local artifacts and a special set of images will be on loan from the Frank H. McClung Museum of Natural History and Culture at the University of Tennessee at Knoxville. The images are colorized versions of sketches drawn by Madeline Kneberg and have never before been publicly displayed in color. CPQ Pics is generously printing the images expressly for the Hiwassee River Heritage Center.
The new National Historic Trail experience will debut the first trail segment as well, connecting the Hiwassee River Heritage Center to the Charleston Park. This segment of the trail is called "Voices from the Past" and features significant quotes about the Cherokee Removal at Fort Cass from Cherokee and missionaries and from military figures. The signs were researched and designed by the MTSU Center for Historic Preservation Team with assistance from Laura Bryan Spann and several resources to vet the material. The trail concept was designed by the National Park Service and funded with a federal grant matched with labor and materials donated by Caldwell Paving Company.
The trail experience and the heritage center are two components of a master plan for heritage development in the Charleston and Calhoun communities. The trail is intended to extend beyond the Charleston Park and eventually reach the Hiwassee River at a river park which would complete the master plan. There are plans to connect with the Cleveland/Bradley Greenway as it extends toward the Hiwassee River.
---
On the road? Why not take us with you. Our websites are mobile-friendly! Visit our growing family of exit guides:  I-4 Exit Guide, I-5 Exit Guide, I-10 Exit Guide, I-75 Exit Guide, and I-95 Exit Guide. Detailed exit service listings… discount lodging, camping, food, gas and more for every exit along the way!