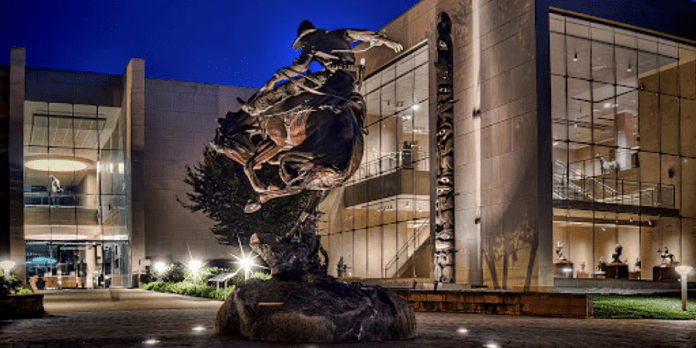 The summer-into-fall heat stirs up the need for a getaway to find respite and a reboot of the mind. But where to go when you can't go far? Saddle up, lasso the family and ride out on a cool, comfortable and inspirational visit to the American West, just 30 minutes north of Atlanta on I-75.
The Booth Western Art Museum in Cartersville, Georgia, is an indoor and outdoor eye-candy immersion, at once historical, iconic, fanciful and surprising in scope. Among its sizable permanent collection are outsized murals, miniatures, an authentic stagecoach and a sculpture garden displaying larger-than-life examples of the genre's best.
In the 120,000-square-foot space, the second largest art museum in Georgia, guests can See America's Story through significant historic and contemporary Western artwork, from bronze to canvas, and in every style from painterly to pop art. Around every corner, outsized art and delicate miniatures provide "stop you in your tracks" moments depicting the iconic cultures, indigenous peoples, dramatic landscapes and more. Even the soaring sculpture atrium, at once showcasing the pieces indoors and on the grounds, re-creates the big-sky feel of the Western plains.
In eight galleries, visitors can escape into the American West collection of landscapes and wildlife, experience colliding cultures as Native Peoples and settlers comingle in scenes of stereotype-shattering diversity in both the artists and subjects, see the exquisite artifacts and artisan pieces in Native Hands and explore the Cowboy Gallery, showing cowboys and cowgirls at work, rest and play.
One of the many reasons for its popularity is that The Booth displays a continually changing visual palette. Temporary exhibits are changed every three to four months in four galleries, resulting in 12 to 15 new exhibitions per year. Each visit is a relaxing yet exciting escape, a one- to three-hour exploration of the myth and magic of the West, without the dust and the distance.
If you go
Cartersville offers cosmopolitan amenities with the parking, accessibility and charm of a small town. Two Smithsonian-affiliated museums (The Booth and the Tellus Science Museum) and a beautifully restored historic downtown filled with antiques, galleries and boutiques offer a destination experience. In addition to the Museum Café, area dining options include innovative cuisine, funky diners and everything in between. The Savoy Auto Museum is the newest addition to this museum maven city.
Booth Western Museum
501 Museum Drive
Cartersville, Georgia 30120
Tel: 770-382-1300
www.BoothMuseum.org
Ample free parking
About Booth Western Art Museum
Booth Western Art Museum, an Affiliate to the Smithsonian Institution, is a 120,000 square foot museum located in Cartersville, Georgia, where guests are invited to See America's Story through contemporary Western artwork, a Presidential Gallery and Civil War art gallery. Open since August 2003, Booth Museum is the only museum of its kind in the Southeast and was named the 2020, 2021 and 2022 USA Today's 10BEST Readers' Choice award Best Art Museum in the United States. To learn more about Booth Western Art Museum, visit www.boothmuseum.org.
Museum Directions
Booth Western Art Museum, 501 N. Museum Drive, Cartersville, GA 30120. Take I-75 to exit 288 – Main Street, Cartersville. Head West. Follow Main Street (Highway #113 / #61) into the business district – approximately 2.2 miles. Turn right on Gilmer Street, travel two blocks under the bridge and the Museum is on the left. Free parking is available in the Tabernacle Baptist Church parking lot on Gilmer Street, across from the Museum entrance.
Museum Hours
Tuesday, Wednesday, Friday, and Saturday: 10 a.m. – 5 p.m. Thursday: 10 a.m. – 8 p.m. Sunday: 1 p.m. – 5 p.m. Closed Mondays, New Year's Day, July 4th, Thanksgiving Day and Christmas Day.
Admission
Adult: $13.00; Senior (65+): $11.00; Student (with ID): $10.00; Children 12 and under: Free (accompanied by parent or guardian); Active Military Personnel (with ID): Free (½ price regular admission for all immediate family members of the active-duty person); Booth Museum Members: Free; First Thursday of each month: free admission for all between 4 – 8 p.m.
---
The I-75 Exit Guide is the Internet's largest and most complete website dedicated to Interstate 75 travelers. Find detailed exit service listings… lodging, camping, food, gas and more for every exit from Michigan to Florida!
On the road? Why not take us with you. The I-75 Exit Guide is mobile-friendly and totally FREE. No App Required.
Traveling another route? Visit our growing family of exit guides:  I-4 Exit Guide, I-5 Exit Guide, I-10 Exit Guide, I-75 Exit Guide, I-80 Exit Guide and I-95 Exit Guide. Detailed exit service listings… discount lodging, camping, food, gas and more for every exit along the way!