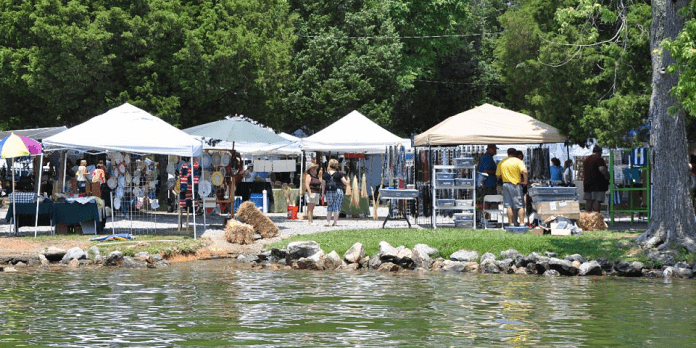 There's no better time than the summer for celebrating the natural beauty, talent and tastes of Loudon County, Tennessee. This picturesque and charming vacation destination situated between Knoxville and Chattanooga is the most scenic and least congested route to the Smokies from I-75 and I-40 East. The quintessential summer-at-the-lake season kicks off in early June with the Annual Lenoir City Arts & Crafts Festival, a beloved event with a long-standing history in Lenoir City.
The 60th Annual Lenoir City Arts & Crafts Festival will be held on Saturday and Sunday, June 3-4, 2023, at Lenoir City Park. More than 225 artists and vendors from all over the Southeast and beyond will be featured at this year's event. Items range from ceramics and glassware to metal work and jewelry, to baskets, woodwork and much more. Food and beverage vendors add to the enjoyment with tasty treats for all. Lenoir City Park overlooks Fort Loudoun Lake and the Smoky Mountains. It's the outdoor centerpiece of the charming, historically preserved downtown of Lenoir City, which is a short distance from historic Loudon, Maryville and Knoxville, Tennessee.
The festival was started by the Lenoir City General Federation of Women's Clubs (GFWC) Suburbia Woman's Club in the summer of 1962 as a community fundraiser and has raised more than half a million dollars for charities. What began as an event where artists displayed works on clotheslines, the Lenoir City Arts and Crafts Festival has grown to feature masterpieces by fine artists working in various media including oils, watercolor, acrylics, pastels, charcoal, pen and ink. All profits go back into the community to help various organizations and programs in Loudon County, including the Boy Scouts, the Lions Club and a local sports team, just to name a few. The club has also provided scholarships to local graduates to help further their education.
"Our largest fundraising project is hosting Lenoir City Arts & Crafts Festival. We're proud to say this festival marks 60 years of continued success. Our club consists of 18 dedicated women who gather each month to share friendship while organizing this exciting event for the community," says Sheila Woody, president of the Lenoir City GFWC.
"The best part is that we're able to financially support several worthy causes in the area. Examples of 'giving back' to the community—a $50,000 contribution to downtown splash pad, Angel Tree gifts, 4-H camp, Immanuel House, Alzheimer 5K plus many more. This year promises to be loaded with over 200 unique crafters and food vendors. The Festival is located waterfront at Lenoir City Park and will take place Saturday, June 3, and Sunday, June 4. Find us on Facebook and www.LenoirCityArtsandCrafts.com for more information," adds Woody.
Calendar of Event Listing
60th Annual Lenoir City Arts & Crafts Festival
9 a.m.-5 p.m., Saturday, June 3, 2023
10 a.m.-4 p.m., Sunday, June 4, 2023
6707 City Park Drive
Lenoir City, Tennessee 37772
A $3 donation is requested at the entrance.
If you go
With the Smoky Mountains rising over a vast network of lakes and rivers, Loudon County, Tennessee, is the road less traveled to the National Park and the preferred location for those looking for the ultimate mountain lake vacation. Along with discovering authentic historic downtowns, art and antiques, contemporary and traditional restaurants, days are filled with boating, canoeing, fishing, waterskiing and simply exploring the land itself on foot or bike. If golf is your game, Loudon County is a great place to tee up. Don't miss a visit to Sweetwater Valley Farm (17988 West Lee Highway, Philadelphia, Tennessee 37846), a working dairy farm and cheese producer where visitors can sample and see the process, and the award-winning Tennessee Valley Winery (15606 Hotchkiss Valley Road, Loudon, Tennessee 37774), where free tastings are offered at one of the oldest operating family-owned wineries in the state.
For information on lodging, dining and activities, as well as a full calendar of events, visit www.VisitLoudonCounty.com.
---
The I-75 Exit Guide is the Internet's largest and most complete website dedicated to Interstate 75 travelers. Find detailed exit service listings… lodging, camping, food, gas and more for every exit from Michigan to Florida!
On the road? Why not take us with you. The I-75 Exit Guide is mobile-friendly and totally FREE. No App Required.
Traveling another route? Visit our growing family of exit guides:  I-4 Exit Guide, I-5 Exit Guide, I-10 Exit Guide, I-75 Exit Guide, I-80 Exit Guide and I-95 Exit Guide. Detailed exit service listings… discount lodging, camping, food, gas and more for every exit along the way!