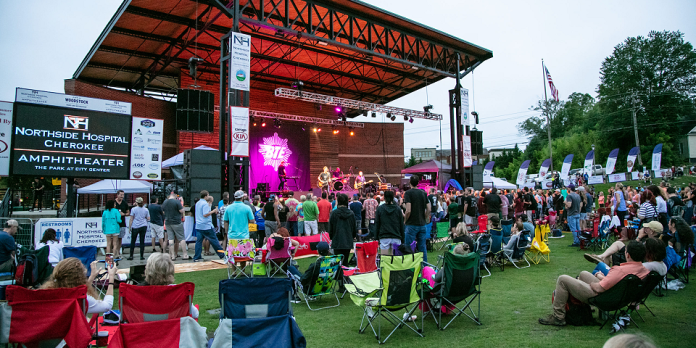 Located just 35 minutes north of the Atlanta perimeter on I-75/575, Woodstock is an unexpected destination offering visitors authentic and organic experiences all year round. From interesting dining experiences and unique shopping options to cooking classes, wine tastings, family friendly events and more, there's always a reason to visit Woodstock, no matter the season. Here's a taste of what there is to experience in Woodstock throughout the year.
Unique experiences
Create something delicious! Join the team at Leaning Ladder Olive Oil for an unforgettable cooking class experience. Perfect for a couple's date night or a fun outing with friends, classes showcase accomplished chefs from the greater Atlanta area. From themed classes like "Greek Night" and monthly wine tastings to classes centered around specific ingredients, participants are sure to enjoy an evening full of food, drinks and laughter. Leaning Ladder Olive Oil, 105 East Main Street, Suite 126, Woodstock, Georgia 30188; 678-401-2609
Hone your craft or take up a new hobby during the summer. Organize a group outing and attend a class at Made Mercantile. Learn more about candle making, create one-of-a-kind pieces of jewelry or create spa-like bath goodies. A variety of classes are offered by local makers monthly. Try one or try several. Made Mercantile, 8636 Main Street, Woodstock, Georgia 30188; 678-444-9134
Embrace the drama at Woodstock Arts Classes and Workshops. Taught by trained instructors, these classes and workshops introduce children, teens and adults to the exciting world of the arts, both performing and visual. Through a varied curriculum, students explore the craft of acting, singing, dancing, improvisation, drawing and/or portfolio development and learn the discipline of the arts as they develop their unique creative voices. Classes and workshops are designed to meet students where they are, regardless of prior experience or skill level. Open to all ages. Woodstock Arts, 8534 Main Street, Woodstock, Georgia 30188; 678-494-4251
Shop locally for a souvenir to remember the visit. Delight in local, independently owned shops in downtown Woodstock. Discover antiques, browse two independent bookstores, peruse local art and jewelry, shop home décor, clothing and more while taking in the charm of downtown Woodstock. Additionally, Woodstock is home to Atlanta's closest and newest outlet shopping experience. The Outlet Shoppes at Atlanta offers a walkable, attractive landscaped outdoor environment. Shop such brands as Coach, Columbia Sportswear, Kate Spade, Michael Kors and Nike, among many others. A food court and two full-service restaurants round out this shopping mecca. Outlet Shoppes at Atlanta, 915 Ridgewalk Parkway, Woodstock, Georgia 30188; 678-540-7040
Savor the season
No matter when you visit Woodstock, mouth-watering experiences await.
Celebrate a special occasion or make an ordinary evening extraordinary with tasting events at The Stout Brothers Woodstock Beer Market. Located in the heart of downtown Woodstock, The Stout Brothers offers outstanding brews in a fun atmosphere while also providing a boutique grocery with grab-and-go food options. From sake tastings to beer and pretzel tastings to trivia nights and cider tastings, there's always something fun happening at this local favorite. The Stout Brothers, 240 Chambers Street, Woodstock, Georgia 30188; 678-909-5678.
Don't miss the ever-popular monthly wine dinners at Rootstock, a wine and bourbon bar located in Woodstock's lively downtown district. Housed in the same building that was once home to Woodstock's Post Office in the early 1900s, Rootstock features a main level dining room and bar as well as a second level entertainment space, also known as Vintners Rooftop, offering spectacular 360-degree views of the city. For more information on wine dinners, click here. Rootstock, 8558 Main Street, Woodstock, Georgia 30188; 770-544-9009
Cool down with a local brew at Jekyll Brewing. Having opened their first location in 2013 in nearby Alpharetta, this local brewery has recently expanded to Woodstock. Featuring 26 taps and a 50-barrel brew system, Jekyll Brewing serves a lineup of craft beers that cover the global spectrum of brew styles. While beer is the main focus, Jekyll Brewing also offers a dining with a wide range of options, including a kids menu. Jekyll Brewing, 8634 Main Street, Woodstock, Georgia 30188; 844-453-5955
Finish the day at one of downtown Woodstock's chef-driven dining establishments like Freight Kitchen & Tap. Home to hand-crafted libations and farm-to-table Southern fare, Freight Kitchen & Tap features unique seasonal menus by incorporating locally sourced fruits and vegetables from nearby farms. Freight Kitchen & Tap, 251 East Main Street, Woodstock, Georgia 30188, 770-924-0144
Save the date
It's always a good time to visit Woodstock. Save the date for these year-round special events.
Get out and enjoy the gorgeous weather and take in some of the season's best events.
Celebrate the spring holidays (think Mardi Gras, Saint Patrick's Day, Cinco de Mayo and more continuing throughout the year) with the Woodstock Pub Crawl Series. These Saturday pub crawls feature food and drink specials at downtown Woodstock establishments, giving businesses an opportunity to showcase their offerings.
Round up your shopping crew and check out Sip + Shop happening in March and again in November. This late evening ticketed event allows participants the opportunity to take advantage of specials and goodies offered by retailers in downtown Woodstock. Shoppers will also enjoy live music along the sidewalks, dining specials at downtown restaurants and more. Save the date for March 16 and November 16.
Every Saturday, from 8:30 a.m. to noon, April 22-December 30, the Woodstock Farm Fresh Market, located on Market Street in Downtown Woodstock, showcases a variety of locally grown products spanning various cultures. It's a can't-miss celebration of fresh food and local love.
Move to the rhythm of the music. April through July, the Lantern Series takes place on the Event Green in Downtown Woodstock and features world-renowned artists. The series consists of different genres, backgrounds and ideologies in hopes of bringing the community together to find a literal and figurative common ground.
For a fun evening with the family, check out Woodstock's Family Fun Night. This Thursday evening theme night is all about family fun, costumes, shopping, dining out and experiencing the family friendly atmosphere of the city–with activities for children happening throughout downtown, including a free movie to top off the evening on the event green. The kids are sure to be talking about this night for months! With dates in May, June and July, be sure to catch one or all.
Set your tastebuds for a real treat come fall. Mark your calendar for Taste of Woodstock happening September 14 at the Woodstock Arts Event Green. This popular annual event is the perfect opportunity to experience Woodstock's thriving dining scene. Area restaurants will serve delicious tastes of their best dishes in a variety of categories. Admission is free.
Nothing says fall like Octoberfest! WDSTKtoberfest festivities begin September 23 and run through October 1. A keg tapping, food and drink specials and an ever-popular Pub Crawl, mean there's no doubt fun times will be had.
For information on additional annual events and year-round happenings such as walking tours, markets and more, please visit VisitWoodstockGA.com/events.
---
The I-75 Exit Guide is the Internet's largest and most complete website dedicated to Interstate 75 travelers. Find detailed exit service listings… lodging, camping, food, gas and more for every exit from Michigan to Florida!
On the road? Why not take us with you. The I-75 Exit Guide is mobile-friendly and totally FREE. No App Required.
Traveling another route? Visit our growing family of exit guides:  I-4 Exit Guide, I-5 Exit Guide, I-10 Exit Guide, I-75 Exit Guide, I-80 Exit Guide and I-95 Exit Guide. Detailed exit service listings… discount lodging, camping, food, gas and more for every exit along the way!