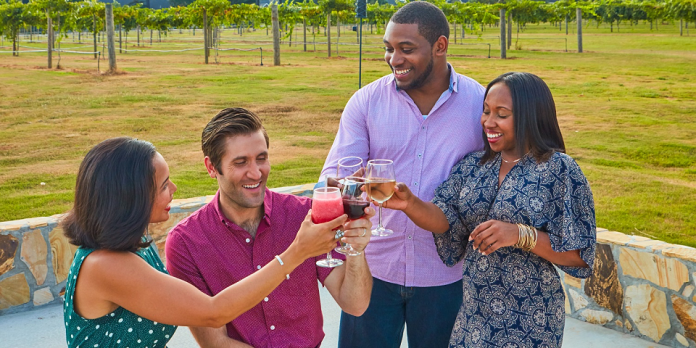 Located in west-central Georgia, convenient to I-75, three hours south of Atlanta and just two hours north of I-10, Americus and Sumter County are west-central Georgia hot spots filled with unique small-town experiences, Presidential history, interesting dining and shopping and a slew of unique annual events, making it an ideal destination for weekend getaways. Gather up the crew and hit the road to explore this southwest Georgia gem.
Dine
Small, locally owned dining establishments are Americus's specialty. Kickstart your day at Café Campesino, Georgia's first and only 100% fair trade, organic specialty coffee company. Founded in 1998, Café Campesino is a cooperative importer, roaster, wholesaler distributor and online retailer all in one. Located in the heart of Americus, just nine miles from Plains, patrons can stop in for a cup of joe and browse the many varieties available in the shop. Café Campesino, 725 Millard Fuller Blvd., Americus, Georgia 31709; 229-924-2468
Known for their "always fresh" menu items, Little Brother's Bistro is just the spot for lunch. From homemade pimento cheese sandwiches and refreshing wraps to muffulettas, salads, soups and paninis, there's no way you can go wrong with anything on the menu. After lunch, head to Sweet Georgia Bakery and Café for homemade Southern delicacies that are sure to knock your socks off. Think buttermilk pie, devil's food cake, peach tarts and more. Little Brother's Bistro, 123 West Lamar Street, Americus, Georgia 31709; 229-410-9827; Sweet Georgia Bakery and Café, 134 West Lamar Street, Americus, Georgia 31709, 229-380-0439
Indulge in Victorian elegance for dinner at Rosemary & Thyme. Located inside the Historic Best Western Plus Windsor Hotel, in the heart of downtown Americus, Rosemary & Thyme celebrates the Victorian era from top to bottom. The original tile floor, wrought-iron footed tables and furnishings reflecting the Victorian period create an elegant ambiance. Diners delight in a flavorful modern American menu featuring the freshest ingredients and seasonal favorites. Rosemary & Thyme, 125 West Lamar Street, Americus, Georgia 31709; 229-924-1555
Shop
Visitors and locals alike enjoy shopping Americus's downtown district. Browse antiques, gifts, home décor and locally made specialty items at The Maze. From local brands to one-of-a-kind art and furniture, shoppers are sure to find something they can't live without at The Maze. The Maze, 131 West Forsyth Street, Americus, Georgia 31709; 229-928-9688
Take in the season's latest trends at The Kinnebrew Co. Established in 1947, this hometown shop offers a wide variety of apparel for men and women, footwear, gifts and accessories. Pop in and pick up a gift for your gal pal or treat yourself. The Kinnebrew Co., 208 West Lamar Street, Americus, Georgia 31709; 229-924-8888
Peruse classic treasures at Fox & Fowler, located inside the Historic Best Western Plus Windsor Hotel. From specialty home décor items and seasonal gifts to children's books, gifts and more, there's so much to see (and purchase!) inside this local favorite. They also offer online shopping. Fox & Fowler, 109 North Jackson Street, Americus, Georgia 31709; 229-596-1100
Explore
With a plethora of interesting outings available to visitors, there's never a dull moment in Americus. Train lovers will delight in the SAM Shortline Train. All aboard! Passengers will board historic air-conditioned railroad cars departing from various locations depending on the tour. Themed excursions offer passengers the opportunity to see some of the area's best sites while being entertained. Choose from themes such as the Presidential Flyer excursion, the Wine and Cheese Train, a Murder Mystery Dinner Train and more. For a full list of excursions including kid friendly and holiday themed train rides, click here. Tickets must be purchased in advance. SAM Shortline Train, 2459 US-280, Cordele, GA 31015, 229-276-0755
Take in a show at the historic Rylander Theatre. Located in historic downtown just a few blocks from the Windsor Hotel, the Rylander Theatre was originally built in 1921 and operated as a vaudeville theatre. Restored in 1999, the historic theatre features an Art Deco style design and has a seating capacity of 621. From live performances and movies to special events and organ concerts on the 1928 Moller Theatre Pipe Organ, any show is a real treat at the Rylander. Rylander Theatre, 310 West Lamar Street, Americus, Georgia 31709; 229-931-0001
Bottoms up! No visit to Americus is complete without a stop at Thirteenth Colony Distilleries. Established in 2009, this award-winning distillery is Georgia's original craft distillery and the first legal distillery in the state since Prohibition. What started as a group of friends making holiday gifts for their families and loved ones turned into a full-blown business and ultimately, a dream into a reality. Thirteenth Colony specializes in unique Southern spirits using locally and regionally sourced materials when possible—including corn from their private farm and water from the oldest aquifer in the Southeast. Products include whiskey, bourbon, vodka and gin. Call to schedule a tour of the distillery and a visit to the tasting room. Cheers, y'all! Thirteenth Colony Distilleries, 305 North Dudley Street, Americus, Georgia 31709; 229-924-3310
Explore the beauty (and fruit!) of Wolf Creek Plantation, Sumter County's first and only winery. Specializing in muscadine wine, Wolf Creek produces nine wines total ranging from sweet to dry and all of which are produced using locally grown fruit. Visitors to the plantation enjoy the picturesque scenery of rolling vineyards, an inviting porch perfect for wine sipping, as well as a relaxed atmosphere inside the tasting room. The Vineyard Tasting Room offers tastings by the glass, wine slushies, wine accessories and more. Tasting room hours are 11 a.m.-5 p.m., Thursday and Friday, and 11 a.m.-6 p.m., Saturday. Additionally, Wolf Creek Plantation hosts special events throughout the year and is available for weddings. Wolf Creek Plantation, 207 Wolf Creek Drive, Americus, Georgia 31719; 229-942-0091
Looking for more fun? Americus is also known for one-of-a-kind events from a Hot Glass Craft Beer Fest to murder mystery dinner theater experiences. Click here for more of the area's most beloved events.
Where to stay
Whether you are headed to the area for a long weekend or just passing through, Americus and the surrounding area are home to many great lodging options. Visitors love the Presidential ties to Plains Historic Inn & Antiques. Former President Jimmy Carter and former First Lady Rosalynn Carter have joined their hometown in developing a historic inn and antiques mall, located on Main Street in Plains, Georgia. They now invite guests to step back in time and enjoy the accommodations of one of seven period suites, authentically furnished from the 1920s to 1980s. Every room has a history lesson. Plains Historic Inn & Antiques, 106 Main Street, Plains, Georgia, 31780; 229-824-4517.
Located in the heart of downtown Americus, the Historic Best Western Plus Windsor Hotel was built in 1892 to attract winter visitors from the north. The Windsor was a 100 room, five-story Victorian masterpiece architecturally designed with a tower and turret, balconies and a three-story open atrium lobby. The hotel occupies nearly an entire city block and was the site of numerous balls and celebrations over many decades and after nearly 80 years in operation, the hotel closed its doors in 1972. In 1991, the hotel re-opened after a $6.5 million dollar renovation. Historic Best Western Plus Windsor Hotel, 125 W. Lamar Street, Americus, Georgia, 31709; 229-924-1555.
History buffs will love the Americus Garden Inn. This historic bed and breakfast was built before the Civil War in 1847 and is situated on Rees Park within Americus's beautiful residential historic district and among many fine homes of the Victorian era. The Americus Garden Inn Bed and Breakfast offers seven spacious comfortable air-conditioned rooms, in-room private baths and several guest amenities. Americus Garden Inn, 504 Rees Park, Americus, Georgia, 31709; 229-931-0122
For more on Americus and Sumter County, visit https://visitamericusga.com/welcome-to-americus/.