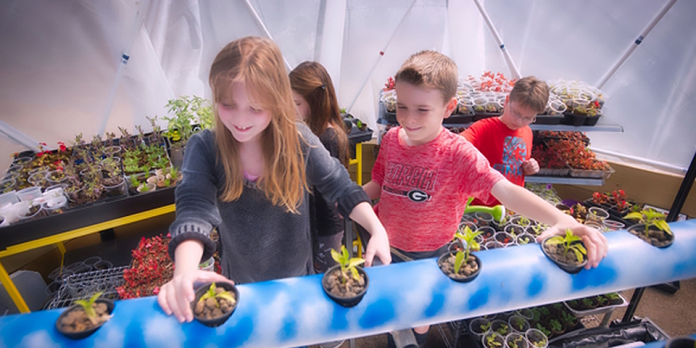 Kids can keep on learning while having fun this spring and summer in Blue Ridge and Fannin County. Take an extended family field trip, combining outdoor adventure and discovery in the North Georgia mountains, about 90 minutes north of Atlanta off Interstate 575 and an hour and a half from Chattanooga, Tennessee. There's so much fun to be had that (shhh!) the kids will never know it's also about education.
To adults, Blue Ridge is an exquisite North Georgia mountain gateway town with wineries and craft breweries, art galleries, delectable restaurants, downtown shopping and lodging as well as getaway cabins on mountain ridges, in peaceful valleys and on scenic waters. For the family, geography and biology lessons are all around. Fannin County lies in the Appalachian Mountains, 90 miles north of Atlanta, bordering North Carolina and Tennessee.
Experience Farm to Fork Only one mile from Blue Ridge on Georgia Highway 5, Mercier Orchards has tractor tours and spring/summer u-pick strawberries, blueberries–and apples in August. Stop in the store for yummy fried pies, apple cider, apples, peaches, jams and preserves. At The Folk Collaborative enjoy U-pick, wagon rides, fried pies, the mercantile, movie nights and other events.
Blue Ridge Scenic Railway: history and geography Railroads were once the driving force for development, commerce and early tourism. The Blue Ridge Scenic Railway excursion starts downtown at the historic 1905 depot. Ride in vintage climate-controlled or open-air rail cars alongside the Toccoa River, with a stop in the twin border towns of McCaysville, Georgia, and Copperhill, Tennessee. Copperhill/McCaysville is split by the Georgia/Tennessee state line. On Toccoa/Ocoee Street, look for the Blue Line and take a selfie with a foot in each state.
Trout Trail From the county seat of Blue Ridge to the county borders north, south, east and west, more than 100 miles of trout streams and rivers wind through and across 100,000 acres of the Chattahoochee National Forest. This natural resource inspired the Georgia State Legislature to designate Blue Ridge and Fannin County as the "Trout Capital of Georgia." Earn a distinctive commemorative award patch on the Fannin County Trout Adventure Trail®.
Begin at the watershed of Springer Mountain, the starting point of the bucket-list Appalachian Trail. Hike to Long Creek Falls and walk the 260-foot Toccoa Swinging Bridge (the longest east of the Mississippi River). Visit the Chattahoochee National Fish Hatchery, where more than a million rainbow trout are raised each year to stock North Georgia rivers. Fish Rock Creek and take a tour to learn more about the Southern Appalachian Ecosystem (Highway 60 South between Morganton and Dahlonega). Maps and details on each stop can be found in these two documents: Trout Streams & Learning Adventure and The Trout Adventure Trail guide.
The Trout Art Trail Name Finder Game is a fun treasure hunt to discover the colorful trout statues placed around town. Visit each, fill in the fish names after printing the worksheet and take it to the Fannin County Chamber of Commerce Welcome Center for a prize. (152 Orvin Lance Drive, Blue Ridge, Georgia 30513, right behind CVS Pharmacy across from Ingles on Highway 515. 706-632-5680; 1-800-899-6867).
Please Your Whole Pack Families with varied ages or interests can mine for gems, go fishing, take a hike or play a round of mini-golf, all at The Lilly Pad Village (7.5 miles from Blue Ridge on Aska Road at 24 Adelaide Drive). Pets are welcome, and fishing poles and bait are provided. Tweens and teens give high marks to the high energy of Axe Throwing Therapy, Blue Ridge Paintball, Walk the Line Axe Throwing and whitewater rafting on the Ocoee River. Haunted Blue Ridge Ghost Tours is a fascinating account of Native American early white settler lore, combined with history and shivers.
Rain Plans Don't let Mother Nature rain out your adventure. Blue Ridge's indoor mini-golf course at 2nd Story Entertainment features a variety of themes throughout nine rooms in addition to an arcade and games like giant tic-tac-toe, darts and checkers that guests can play as they move throughout the course. Vertigo offers fun, food, craft beer and a great collection of vintage pinball machines, no tokens or quarters needed, just buy a wrist band for the length of time you want to play.
Recess Take a break at The Chocolate Express for homemade fudge, hand-dipped chocolates and ice cream, sodas, floats and more (634 East Main Street). For cake pops and chocolate dipped bananas, grapes, strawberries, blueberries and cherries, stop at The Sweet Shoppe of the South, winner of Food Network's "Cupcake Wars" (721 East Main Street). In the evening, catch a movie the old-school way at the Swan Drive-In, one of the few remaining in Georgia. This 1955 treasure features first-run movies and a full concession stand, including funnel cakes and fried Oreos.
Lights Out Intown, unique overnight options range from chic lofts overlooking the town to the new upscale, modern Hampton Inn Blue Ridge featuring balcony rooms and the city's only rooftop bar/restaurant, Hook & Eye. In surrounding Fannin County choices include lodging with stunning mountain views, creekside retreats, riverfront lodges, cabins on the lake and much more. To search for the perfect in-town hideaway or mountain retreat, go to www.BlueRidgeMountains.com/where-to-stay. For dining and itinerary ideas, visit www.BlueRidgeMountains.com
That's just a few of the ways summer fun and experiential learning come together in Blue Ridge. For more, visit the Blue Ridge blog, 30 Fun Things to Do with Kids and www.BlueRidgeMountains.com/things-to-do/family-fun. Download or pick up The Family Fun Adventure Game in one of the Visitor Centers. it's a great way to spend the day and explore, with a coloring book and a prize when returned to one of the centers.