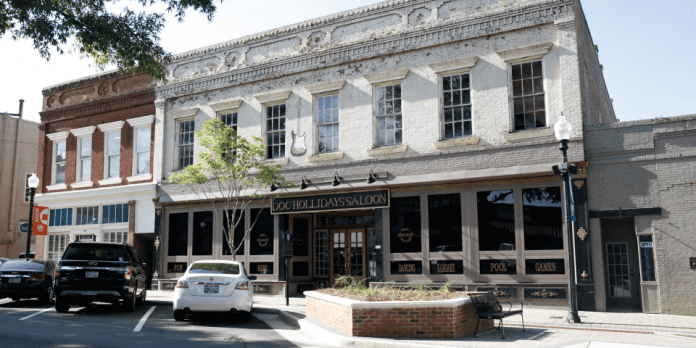 More and more travelers are attracted to vacations in charming small towns that offer relaxation with lively surprises. Those who haven't visited Griffin, Georgia, in a while will find much has changed from its days of bustling railroads, a major cotton distribution mecca and a leading textile manufacturing center. Now, the area is finding a new identity as an eclectic, must see destination ideal for getaways.
Griffin is full of tree-lined, small-town charm, stately historic homes, diverse history and heritage and a thriving dining and arts scene in a commercial district full of restored and re-purposed buildings. It's also the birthplace of Doc Holliday and the film site of over 100 movies and television series. Located just 40 miles south of Atlanta, Griffin holds plenty of delights for leisurely loiterers as well as active sports enthusiasts. As the birthplace of Doc Holliday and the film site of over 100 movies and shows from "Fried Green Tomatoes" to "The Walking Dead," there's something around every corner to pique the interest of visitors and locals alike. Historic downtown Griffin features many locally owned restaurants and cafes serving up Southern favorites, unique shops offering antiques, apparel and gifts and beautiful murals depicting the town's history.
Looking for tee times, tea times, or both? This town is the perfect "his and hers" getaway for guys, girls and groups, with plenty to do for all ages and activity levels.
Learn a New Sport, Up Your Game
Active adults of all ages are drawn to Griffin for pickleball, shooting sports and golf, with a side trip to discover Griffin's greats, including three-time Olympic Gold Medalist Wyomia Tyus, Pro Football Hall of Fame Inductee/Dallas Cowboy Rayfield Wright, Atlanta Falcon great Jessie Tuggle and Chicago Bears superstar and track star Willie Gault.
Pickleball With 18 courts, the world class Spalding County Pickleball Complex has made Griffin a hotspot for this hot new pastime, creating opportunities for open pros, senior pros, super senior pros and amateurs. The Spalding County Pickleball Association (SCPA) has garnered a national reputation for annual world class pickleball tournaments with nationally televised broadcast coverage on EPSN+ and YouTube APPTV through two successful hostings of the Association of Pickleball Professionals (APP) – Atlanta Metro Open tournament events. Wyomia Tyus Olympic Park, 1301 Cowan Road, Griffin, Georgia 30223
Shooting Sports Rolling terrain, manicured facilities, and unparalleled service make Cherokee Rose a premier recreational and competitive sporting clays club. Its two 16-station sporting clays courses appeal to both beginners and experienced shooters, a covered 5-stand for warm-ups and private instruction, and a Helice ring. Helice is a shotgun sport that provides shooters the excitement of hunting wild birds with flying targets that accurately simulate game bird behavior. Available for rental are golf carts and equipment including shotguns, safety glasses and ear protection. Group intro packages and private instruction are available on a pre-scheduled basis with a resident instructor. (895 Baptist Camp Road, Griffin, Georgia 30223; 770-227-6569)
Golf Enjoy fun and challenging golf without the big-city fees. Hit the links at Griffin Golf Course, a lovely course designed by Seaton Bailey. Originally opened in 1932, this 18-hole course features a 6,430-yard layout highlighted by rolling fairways and manicured greens, located right in the heart of Griffin (Griffin Golf Course, 625 Camp Northern Road, Griffin, Georgia 30224; 770-229-6615). Two courses that suffered damage from the January 2023 tornado have reopened: Cabin Creek Club (1374 North 2nd Street, Griffin Georgia, 30223; 770-229-9316 and The Club at Shoal Creek (430 Country Club Drive, Griffin, Georgia 30223; 770-228-4744).
Try your hand at disc golf. With four top rated disc golf courses to choose from, visitors will enjoy the beautiful settings these courses provide. Disc golf courses can be found at Wyomia Tyus Park, Dundee Lake Park, Orchard Hill Park and The Lakes at Green Valley.
For more outdoor adventure opportunities available in Griffin-Spalding, click here. Insider's Tip—because of Griffin-Spalding's close proximity to I-75, it is the perfect home base for other nearby attractions including Hampton's Atlanta Motor Speedway and more.
Leisurely Excursions, Entertainment
Looking for a girls' getaway or a generational getaway for ladies of many ages? Architectural driving tours, art, entertainment, a tea service and history make for a leisurely itinerary.
From performances at Camelot Theatre to seasonal shows performed by the Griffin Ballet Theatre, there's no shortage of entertainment in the way of performing arts. Local professional productions and national acts are big tickets here at reasonable ticket prices, and without the big-city crowds. The venues–from the carefully restored Griffin Opera House to the sleek Griffin Auditorium – are intimate and welcoming, with free parking. Enjoy experimental black box theatre in a renovated Woolworth's building, a choral society, family-oriented musicals and classic ballet along with dance styles for every taste. Camelot Theatre, 205 Spalding Drive, Griffin, Georgia 30223; 678-469-2913; Griffin Ballet Theatre, 111 North Hill Street, Griffin, Georgia 30223; 770-228-1306; Griffin Opera House, 102 N Hill Street, Griffin, Georgia; 770-688-7188; Griffin Auditorium, 234 East Taylor Street, Griffin, Georgia; 770-227-1204 (Venue) or 770-228-3229 (GACA office)
Griffin's architecture is another showstopper, featuring masterpieces by such greats as Neel Reed and Philip Shutze. Take one of the suggested self-guided driving tours that all start from the picturesque clock at the intersection of Hill Street & Solomon Street. One magnificent example is open for guided tours. Completed in 1862, the Greek Revival Bailey-Tebault House and was also used as a Civil War hospital and is on the National Register of Historic Places. The Griffin-Spalding Historical Society owns and operates The Bailey-Tebault House where it continues its mission "to preserve and share the history of Griffin and Spalding County and to promote the preservation and use of their historic structures." Guided tours are available by appointment at least 48 hours in advance; suggested $10 donation per person, or $25 for families, cash or card. (633 Meriwether Street, Griffin, Georgia; 770-229-2432.) Journalists: For more on architectural Griffin and driving tours, visit Stately Homes, Architectural Beauty: Small-Town Charm in Griffin-Spalding County, Georgia – Travel Media Press Room
Even the visitors center is housed in a historic building. Built in 1899 as a grocery distribution warehouse, the Griffin Regional Welcome Center provides ideas for entertainment, dining, shopping and accommodations, along with the Griffin-Spalding Art Association's art gallery of regional works. Upstairs and ADA-accessible are public archives and the Griffin Museum, containing an impressive array of artifacts and memorabilia dating from as far back as the mid-1800s, including the Doc Holliday Museum (143 N. Hill Street, Griffin, Georgia; Monday-Friday 8 a.m.-5 p.m.; 770-228-8200). "Grandmillenials" will gush over The Emerald Chandelier, a fascinating tearoom housed in a circa 1870 home full of eclectic décor. Patrons will enjoy noshing on delicious bites in a cozy, welcoming setting. Created out of the owner's love for the unusual and sentimental, it's a must-see inside and out. (204 West Poplar Street, Griffin, Georgia 30224; 770-733-5921)
For garden-lovers, a visit to The University of Georgia's 65-acre Research and Education Gardens is a treat. Bring a picnic, take a tour and select plants and designs for your own landscape, Take advantage of learning opportunities by checking The Garden Calendar for events, classes and workshops. (UGA Griffin Campus, 129 Ellis Rd, Griffin, Georgia 30223)
Dining Delights for Every Taste
Offering a wide variety of cuisines, visitors to Griffin-Spalding are sure to find something to delight their taste buds. From homestyle Southern cooking at Louise's Cafeteria and local favorites at Bank Street Café to hot wings and cold brews at Uncle Bobby's Wings and Beer and steaks at J. Henry's, there's something for everyone on the menu in Griffin-Spalding. Indulge in authentic and fresh Mediterranean cuisine at Angelo's Mediterranean Cuisine, located in the heart of Griffin's historic district where owners Angelo and Diane Panousis have been serving up the finest Italian and Greek cuisine since 2008. (Louise's Cafeteria, 426 East Solomon Street, Griffin, Georgia 30223; 770-412-9400; Bank Street Café, 126 South Hill Street, Griffin, Georgia 30223; 678-692-8453; Uncle Bobby's Wings and Beer, 1618 North Expressway, Griffin, Georgia 30223; 678-688-8533; J. Henry's Restaurant, 110 West College Street, Griffin, GA 30224; 678-688-1769; Angelo's Mediterranean Cuisine, 102 North Hill Street, Griffin, Georgia, 30223; 770-229-0045). Explore more fantastic flavors on Griffin+Spalding's restaurant directory.
Where to Stay
Griffin-Spalding has a wide variety of lodging options. From charming historic bed and breakfasts to chain hotel brands, there are plenty of choices to fit your travel needs. The area also features many VRBO and Air B&B options including some private estates with properties for rent. Whether it's a historic loft, a bed and breakfast or a traditional hotel experience, there are plenty of lodging options to make your trip memorable.
The official website of the Griffin Spalding Business & Tourism Association is InGriffin.com.
---
The I-75 Exit Guide is the Internet's largest and most complete website dedicated to Interstate 75 travelers. Find detailed exit service listings… lodging, camping, food, gas and more for every exit from Michigan to Florida!
On the road? Why not take us with you. The I-75 Exit Guide is mobile-friendly and totally FREE. No App Required.
Traveling another route? Visit our growing family of exit guides:  I-4 Exit Guide, I-5 Exit Guide, I-10 Exit Guide, I-75 Exit Guide, I-80 Exit Guide and I-95 Exit Guide. Detailed exit service listings… discount lodging, camping, food, gas and more for every exit along the way!