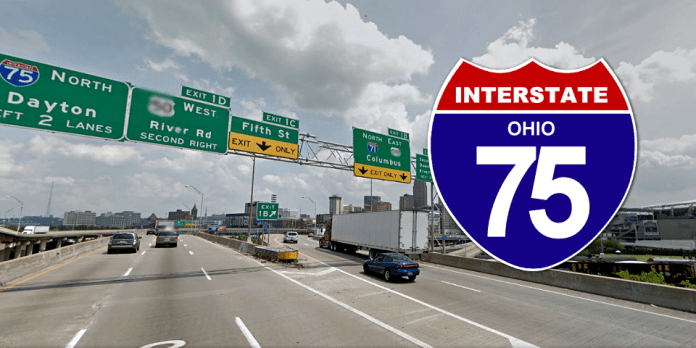 The following is work scheduled to occur in the coming week on I-75 within the Ohio Department of Transportation District 1 which includes the counties of Allen, Defiance, Hancock, Hardin, Paulding, Putnam, Van Wert and Wyandot.
Allen County
Interstate 75 from the Auglaize County line to Fourth Street, through Lima and Allen County, will have occasional lane closures throughout the year during the final year of the reconstruction of the interstate. Current and upcoming impacts to traffic are as follows:

Traffic on I-75 north and south of the Ohio 65 interchange area continues to travel in a contraflow pattern where two southbound lanes and one northbound lane of traffic are traveling on the southbound side of the interstate, and one northbound lane is traveling on the northbound side of the interstate. Traffic will remain in this pattern until late summer.
Traffic on I-75 northbound will continue to be reduced to one lane through the contraflow zone Monday through Thursday of the week, from 6 a.m. to 2 p.m., for drainage work.

The exit ramp from northbound Interstate 75 to Ohio 65 will be closed during these same hours Monday through Thursday from 6 a.m. to 2 p.m.
Traffic will be detoured north on Interstate 75 to Fourth Street to Interstate 75 southbound to Ohio 65.

Heavy truck traffic will be present throughout the project for the next several weeks, especially in the area of the Ohio 65 interchange and the Yoder Road area, near the Orthopedic Institute of Ohio complex.
Paving of the final layer of asphalt throughout the project is expected to take place in late July and early August.
Hancock County
Interstate 75 between Perrysburg and County Road 99 north of Findlay will have the following restrictions through the fall during reconstruction and widening:

Through November, overnight lane restrictions, generally from 7 p.m. until 6 a.m., are possible on I-75 between the I-75/I-475 interchange in Perrysburg and County Road 99 in Hancock County. Through December, 11-foot lane width restrictions are in place on I-75 between U.S. 20 in Perrysburg and County Road 99 in Hancock County.
On June 26 and June 27 from approximately 7 p.m. to 6 a.m. each day, traffic on I-75 northbound and southbound between U.S. 224 and Ohio 613 will be reduced to one lane while traffic is switched into a new pattern. Traffic will be moved into the inside lane to allow the outside lanes to be constructed.
Through December, Township Road 101 in Hancock County, between County Road 220 and Township Road 142, is closed for bridge work over I-75.
---
On the road? Why not take us with you. Our Websites are Mobile-Friendly! Visit our growing family of exit guides:  I-4 Exit Guide, I-5 Exit Guide, I-10 Exit Guide, I-75 Exit Guide, and I-95 Exit Guide. Detailed exit service listings… discount lodging, camping, food, gas and more for every exit along the way!