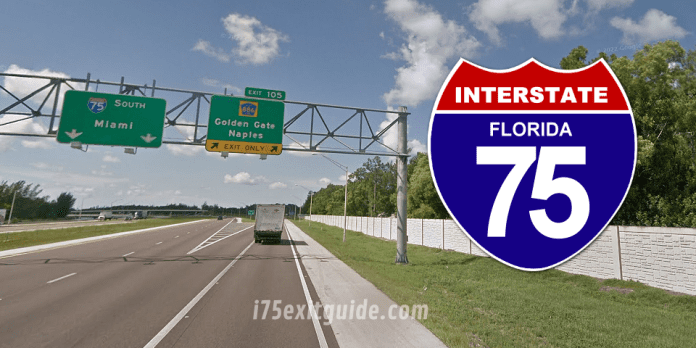 Florida officials and the Florida Department of Transportation (FDOT) announced timelines for several major I-75 Moving Florida Forward projects.
The Moving Florida Forward Infrastructure Initiative will accelerate priority infrastructure projects across the state through an allocation of $4 billion starting in the 2023-24 fiscal year. These projects will address congestion, improve safety, ensure a resilient transportation system, enhance the supply chain and economic growth, and address future needs as the state continues to experience rapid growth.
Included in the announcement is over $700 million in investments for Lee and Collier counties, including expected construction timelines for the following projects: I-75 at Pine Ridge Road, and I-75 from Golden Gate Parkway to Corkscrew Road.
I-75 at Pine Ridge Road Interchange:
The I-75 at Pine Ridge Road interchange is one of the four interchanges along I-75 in Collier County. Improvements include the reconstruction of the I-75 interchange to a diverging diamond interchange. Proposed improvements are located within the right-of-way. Construction starts in early 2025.
I-75 from Golden Gate Parkway to Corkscrew Road:
This project will provide capacity improvements to over 18 miles of I-75 from Golden Gate Parkway to Corkscrew Road. The project will add one additional general-use lane in the northbound and southbound directions (six- to eight- lane widening) and auxiliary lanes as needed. Construction starts in Fall 2027.
"Accelerated timelines for projects included in the Moving Florida Forward Initiative will help alleviate congestion on our roadways much sooner as our state's population continues to grow exponentially," said FDOT Secretary Jared W. Perdue, P.E. "With Governor DeSantis' bold vision and backing from the Legislature, FDOT and our partners stand poised and ready to begin these projects within the next four years to bring the relief that communities have been asking for."
"I-75 is a critical route for our state, for tourists visiting Florida, and for the freight industry serving our businesses and residents," said Lt. Patrick Riordan, Florida Highway Patrol Troop B Public Affairs Officer. "Data shows at least one lane of I-75 is closed every 16 hours due to crashes, and the addition of these auxiliary lanes will help with traffic congestion and make the interstate safer, not only for our FHP members but all road users."
With construction soon beginning on projects across the state, motorists are encouraged to always drive with caution and slow down in and around work zones. Let's get everyone, including our workers, home safely.
---
What's happening on Interstate 75 RIGHT NOW! I-75 Real-time traffic information for selected cities along I-75. Maps show updates on road construction, traffic accidents, travel delays and the latest traffic speeds. Traffic cameras show congestion at a glance. Visit I-75 Traffic.
---
The I-75 Exit Guide is the Internet's largest and most complete website dedicated to Interstate 75 travelers. Find detailed exit service listings… lodging, camping, food, gas and more for every exit from Michigan to Florida!
On the road? Why not take us with you. The I-75 Exit Guide is mobile-friendly and totally FREE. No App Required.
Traveling another route? Visit our growing family of exit guides:  I-4 Exit Guide, I-5 Exit Guide, I-10 Exit Guide, I-75 Exit Guide, I-80 Exit Guide and I-95 Exit Guide. Detailed exit service listings… discount lodging, camping, food, gas and more for every exit along the way!