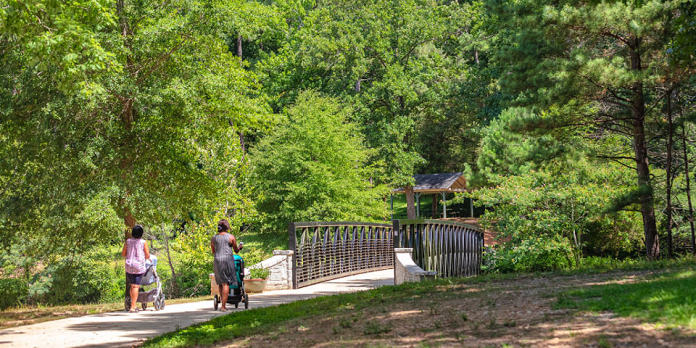 Located 19 miles northeast of Atlanta's Hartsfield-Jackson International Airport and just 10 miles from downtown Atlanta, Brookhaven's community-focused vibe enchants visitors and locals alike. Comprised of distinct neighborhoods, Brookhaven is reminiscent of a laid-back smaller town with all the perks and benefits of a big city. Walkable neighborhoods, well preserved greenspace, locally owned restaurants, one-of-a-kind shops and beloved annual events provide noteworthy experiences for visitors no matter the season.
Spring
Get out and enjoy the gorgeous spring weather by exploring Brookhaven's plentiful green space. Home to some of the Metro Area's largest parks, Brookhaven offers endless opportunities to enjoy the outdoors. Hit the trails and take in the natural beauty of the area. Spanning 50 acres, Blackburn Park features several walking trails, playgrounds, tennis courts and various wide-open spaces ideal for exercise. Traveling with your four-legged friends? Brookhaven Park offers a large fenced area for puppies and dogs to roam safely as well as a playground area for the kiddos. Both parks are open daily, dawn to dusk. Blackburn Park, 3501 Ashford Dunwoody Road, Brookhaven, Georgia 30319; Brookhaven Park, 4158 Peachtree Road NE, Brookhaven, Georgia 30319
Nothing says spring like patio dining! When the weather starts to warm, Brookhaven patios are in full swing. Treat yourself to lunch or dinner at Petite Violette. Known as Atlanta's original French restaurant, Petite Violette serves up delicious French Provençal cuisine, fine wines and an atmosphere exuding warmth and charm. Every seat in the house is outstanding but perhaps the very best seat can be found on the tree-covered patio, perfect for those looking to enjoy the area's lovely spring weather. Petite Violette, 2948 Clairmont Road, Brookhaven, GA 30329; 404-634-6268
Springtime brings one of the area's most beloved and iconic annual events, the Brookhaven Cherry Blossom Festival. Hailed as Georgia's second largest music festival, festival-goers can expect loads of live entertainment as well as a whimsical artist market featuring over 100 local and regional artisans, a Kidz Zone, Dog Lure Chasing, a classic car show and outstanding food and beverages from local hotspots. The 2023 festival will take place March 25-26 in Brookhaven's Blackburn Park. Headliners for this year's festival will be announced early 2023.
New to this spring's event line up is SIP Brookhaven, happening April 15. This lively event will feature live music, art displays, drink demonstrations and more. Don't miss your opportunity to enjoy an afternoon on the beautiful campus of Oglethorpe University while sipping alongside some of Brookhaven's best sommeliers and drink aficionados. For more information, click here.
Spring also marks the opening of the Brookhaven Farmer's Market. This popular market serves as a go-to spot for anyone seeking fresh finds from local farmers. Many Brookhaven restaurants also turn to the Brookhaven Farmer's Market to stock their kitchens with fresh, locally produced food and items for an ultimate farm-to-table experience. Operating Saturdays in April through November, Brookhaven Farmers Market features over 50 vendors offering everything from fresh produce, dairy and packaged foods to bath and body products, pet food and treats as well as items from artists and crafters. Brookhaven Farmers Market, 1375 Fernwood Circle NE, Brookhaven, Georgia 30319
Summer
During the summer months, there's no better way to cool down than spending the afternoon at one of Brookhaven's three public swimming pools located within area parks. For even more fun, pack up the little ones and head to the Splash Pad at Ashford Park. Giggles are sure to fill the air at this popular summer spot.
Nothing says summer like a movie under the stars! Catch an Al Fresco Movie Night happening in Brookhaven parks in June and July. Head to the park for an early picnic dinner and stay for the movie. Movie selections are family friendly and admission is free. For featured movies and times, click here.
Batter up! Check out Brookhaven's hometown baseball team, the Brookhaven Bucks, for some wholesome family fun during the summer months. Games are played on the campus of historic Oglethorpe University and offer even the youngest spectators fun activities such as on-field contests, visiting with players and more. For schedules, tickets and more, click here.
Close out the evening at Pancho's Mexican Restaurant for some of the best patio views of the city and the infamous Monster Margarita. Touted as one of the area's best-kept secrets, Pancho's is an excellent spot to enjoy warm summer evenings Brookhaven style! Pancho's, 2641 Buford Highway, Brookhaven, Georgia 30324; 404-325-2898
Fall
Brookhaven simply shines in the fall. Walkable neighborhoods and parks offer the ideal opportunity to see leaves changing and soak up the cooler, crisp air. Spend the afternoon perusing the art exhibits at Oglethorpe University's Museum of Art. The only small liberal arts university museum in the southeast that regularly shows nationally and internationally recognized exhibitions, Oglethorpe University's Museum of Art is indeed a rare jewel. Visitors to the museum will also enjoy exploring the beautiful campus grounds. The museum is open noon-5 p.m., Tuesday through Sunday. Closed Mondays. Admission is free. Oglethorpe University Museum of Art, 4484 Peachtree Road Northeast, Atlanta, Georgia 30319; 404-261-1441
Back again for 2023, Taste Brookhaven is the perfect way to welcome fall and explore the area's culinary scene in a fun way. Happening September 15 at the Hyatt Regency Atlanta Perimeter, this community festival features live music and local bites, craft cocktails, beer and wine tastings from more than 15 local restaurants. This event showcases the heart of the Brookhaven community and supports a local charity.
University of Georgia fans will love cheering on the Dawgs at many of Brookhaven's restaurants and pubs. Known for an eclectic international menu and pet-friendly patio, Kaleidoscope Bistro and Pub is the ideal spot to kick back, catch up with friends and watch the game. From dollar beer night to live music and football on the TVs, Kaleidoscope has quickly become a favorite among locals. Kaleidoscope Bistro and Pub, 1410 Dresden Drive Ste 100, Brookhaven, Georgia 30319; 404-474-9600
Looking for a lively way to watch the Dawgs? Don't miss The Cocktail Party at Arnette's Chop Shop to cheer on the University of Georgia's beloved football team as they take on the Florida Gators. Hosted in Arnette's Chop Shop courtyard, complete with a 20-foot HD screen, additional TVs, an open bar and special game menu, this is the perfect spot to enjoy this longtime rival. Arnette's Chop Shop, 2700 Apple Valley Road, Brookhaven, Georgia 30319; 404-969-0701
Winter
Winter in Brookhaven is full of opportunities to celebrate and relish in the holiday season. Indulge in the fresh winter menu at Haven Restaurant and Bar. This upscale neighborhood eatery opened over 15 years ago and is often referred to as a centerpiece of the community. Diners will enjoy seasonal menus featuring creative comfort food with a wide selection of small plates, appetizers, salads, entrees and more. Haven Restaurant and Bar, 1441 Dresden Dr Ste 1, Brookhaven, Georgia 30319; 404-969-0700
Celebrate the season with friends and some of the best craft cocktails around at The Ashford. This chef-driven neighborhood restaurant, located on Dresden Drive in the heart of Brookhaven, is the perfect spot for seasonal sips. Go for cocktails and stay for dinner. Featuring a selection of both shareable dishes and traditional entrees, the seasonal menu focuses on locally sourced ingredients and innovative twists on classic favorites. The Ashford, 1418 Dresden Drive, Brookhaven, Georgia 30319; 404-254-5277
Take in a performance at the Conant Performing Arts Center at Oglethorpe University. Located on the historic campus of Oglethorpe University, the Conant Performing Arts Center has hosted student productions and local performance companies for over 20 years. For more information on performances, click here. Conant Performing Arts Center, 4484 Peachtree Road Northeast, Atlanta, Georgia 30319; 404-364-8467
Kickstart the holiday season with a fun-filled event packed with festive cheer! Light Up Brookhaven is the best way to kick off the season with the whole family. This annual event features holiday themed food, music, entertainment and the arrival of Santa, all is sure to be merry and bright.
Looking to find the perfect gift for the holidays? Look no further than Marguerites on Dresden. This local favorite is owned by a mother/daughter team sharing a passion for all things home and interior design. Shoppers will delight in interesting home décor items as well as local art and design services. For more shops and boutiques, click here. Marguerites on Dresden, 1430 Dresden Drive, #100, Brookhaven, Georgia 30319; 404-841-9171