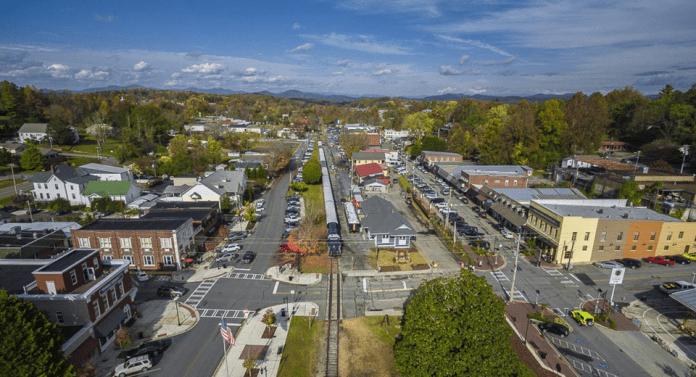 Get away with the gals or escape with your special someone to Blue Ridge, Georgia, about 90 minutes north of Atlanta via I-575. Soothe the soul with spa treatments, food, vineyard and brewery tours. While in town, browse local shops featuring handcrafted goods perfect for giving all year long.
Start your tour
Ease into your getaway with relaxing sips at area wineries and breweries.
Established in 2017, Bear Claw Vineyard's beautiful backdrop sets the scene for relaxation, overlooking the vineyards and on-site Blue Ridge Treehouse (available for overnight stays). Outdoor seating offers the ideal setting for sipping Chardonnay, Vidal blanc, Cabernet Sauvignon, White Riesling and Cayuga. 706-223-3750; BearClawVineyards.com
Mercier Orchards is the only apple orchard in Georgia that grows, presses, ferments and bottles their own hard apple cider and farm wines. Mercier Orchards is also the first producer of hard cider in the state. Visit their 400-acre farm and enjoy a round of tasting; hard ciders include Grumpy Granny, Rock Steady Red, Adele's Choice, Pearody, Black Bee, Lone Tree, Old #3 and Just Peachy. Their farm wines include Fall Harvest Apple, Blackberry Winter and Summer Sweet Peach wines. Mercier Orchards also has tastings of regional wines produced in the Georgia Mountains. 706-632-3411 or www.Mercier-Orchards.com.
Serenberry is a charming farm winery just a few country miles from downtown Blue Ridge. The farm winery has seven to eight wines in the bottle, including Railroad Red and Blue Ridge Red. Relax on the open-air patio in a beautiful setting while savoring sips. Call 706-623-8463; www.SerenberryVineyards.com.
Grumpy Old Men Brewing, A "Nano Brewery," is home of sought-after beers like Moon Over Blue Ridge Wheat, Aska Pale Ale, Devils Den IPA and Hells Holler Porter. Established in 2012 by two "old retired guys" who were home brewing in an outdoor shower and graduated to their brewery on East Main in Blue Ridge, Grumpy Old Men Brewing's corporate mission is simple: "If we don't like it, we don't drink it. If we don't drink it, we don't sell it." Live music on Fridays. Call 706-946-2739; www.GrumpyOldMenBrewing.com.
Fannin Brewing Company's Tom Fennell brought his brewing skills to Fannin County for two simple reasons: Fresh air and fresh water make for fresh beer. Being local is important to Fannin Brewing; it's in the name of their beers: Hiawassee Golden Ale, Toccoa Brown and Blue Ridge Lager. The brewery often features live music and also sources local ingredients in many of their beers. Call 706-258-2762; www.FanninBrewingCompany.com.
Angry Hops Brewing was founded by two guys who just love beer. Sip to the sounds of live music and enjoy ales like Belligerent and Bridge Burner. Call 828-361-6950; www.AngryHopsBrewing.com
Tipping Point Brewing Co. offers a variety of craft brews and seltzers, as well as the Sunday Ticket for NFL viewing! Open seven days a week. With three adjacent restaurants, it's easy to grab a bite to go with your brew. Shopping, music outdoor games like cornhole and more complete the experience. Call 985-237-2503; https://www.facebook.com/tippingpointbrewingco
Pub Crawl
Blue Ridge's pubs pair locally made brews with delicious food. Create your own 'pub crawl' using the route on the Chamber of Commerce's digital Blue Ridge Brews and Wineries map, which highlights places to grab a bite to eat and a drink, including:
Chester Brunnenmeyer's Bar and Grill–733 East Main Street: A rustic American bar and grill with an extensive wine list, signature cocktails and regionally crafted beer.
Fightingtown Tavern–511 East Main Street: A rock-themed tavern offering scratch made eats and cool brews.
Misty Mountain Hops—3300 East 1st St. Blue Ridge: A music-centric restaurant with great food and cold drinks.
Bin 322—116 West Main St., 1-D: A wine and tapas bar and Mona Lisa's Dessert House, serving house-made desserts, cocktails, wine and champagne.
TIP: Not into DIY when it comes to a pub crawl? Book a guided three-hour Blue Ridge Mountain Food Tour or Brew House Tour at www.BlueRidgeMountainFoodTours.com, 678-697-1120.
Sip Blue Ridge local flavors at these haunts:
Relax and unwind at Black Sheep, serving Southern comfort food–including cocktails featuring their house-produced moonshine and desserts like the bread pudding–in a historic residence once visited by Margaret Mitchell, author of "Gone with the Wind." 480 West Main Street
Located in a beautiful historic bank building, ambiance meets unforgettable eats like Blackened Pork Chops (a local favorite), Fried Chicken Paillard, Pecan Crusted Trout the Hand-cut Ribeye at the General Ledger. 260 West Main Street
Serving high-quality, sustainable seafood, cocktails, whiskeys and bourbons from all over the world and set inside a tastefully renovated, historic 1937 post office, Whiskey & Water's Seafood and Bourbon Bar brings the best of America's coasts to the North Georgia Mountains. 187 Depot Street
Drink responsibly. Always have a designated driver or call one of Blue Ridge's local cab and transportation companies:
Blue Ridge Safe Ride, 706-455-4656
Hoppin' Around Georgia, 706-889-9650
Howard Jabaley Taxi Service, 706-455-0082; 706-492-3244
Mountain Transportation, LLC, 706-851-9465
Shopportunities
Find handmade goods at local shops while enjoying your getaway.
At Multitudes Gallery find hand-blown glass and handmade arts and craft work from over 120 nationally and regionally recognized artists, including jewelry, photography and more. Multitudes has been in Blue Ridge for over 20 years. Inside, also find Fishbone Studios, home to Betty Wassmer Ceramics, showcasing the original creations of this noted ceramicist.
At Out of the Bluediscover premier gourmet shop offering an extraordinary selection of fine wines, beers, international and local gourmet foods; beautiful linens, ceramics, glass and the coolest wine toys you've ever seen.
If you go
At Serenity in the Mountains, make getting away easy with package deals themed for girlfriend getaways or couples. For additional options, find links to rental companies for mountain cabins with lake-views and room for 20 (hot tub included!) at www.BlueRidgeMountains.com, 1-800-899-MTNS.
---
The I-75 Exit Guide is the Internet's largest and most complete website dedicated to Interstate 75 travelers. Find detailed exit service listings… lodging, camping, food, gas and more for every exit from Michigan to Florida!
On the road? Why not take us with you. The I-75 Exit Guide is mobile-friendly and totally FREE. No App Required.
Traveling another route? Visit our growing family of exit guides:  I-4 Exit Guide, I-5 Exit Guide, I-10 Exit Guide, I-75 Exit Guide, I-80 Exit Guide and I-95 Exit Guide. Detailed exit service listings… discount lodging, camping, food, gas and more for every exit along the way!