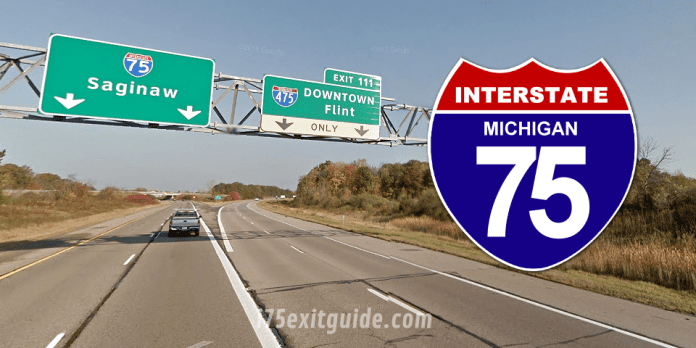 Michigan Department of Transportation (MDOT) contract crews will be implementing daily lane closures on northbound and southbound I-75 to place required pavement markings and signs for Michigan's first high-occupancy vehicle (HOV) lanes on the I-75 modernization project in Oakland County. These lane closures will be done in segments and are expected to start at 5:00 a.m. Monday, October 16, occurring during daylight hours. Opening the 14-mile-long HOV lanes is expected by the end of October.
The I-75 HOV lanes will use the left lane in each direction of I-75 between 12 Mile Road and South Boulevard. They will operate as HOV lanes during peak travel times: 6:00 – 9:00 a.m. and 3:00 – 6:00 p.m. Mondays through Fridays. During those times, vehicles must have at least two human occupants to legally use the lanes. State and local police will monitor the safe movement of vehicles in the HOV lanes to ensure drivers have the proper number of occupants. Civil infractions will be issued to violators. Motorcycles, transit busses, first responders, and emergency vehicles are exempt from occupant requirements. Outside of those designated weekday hours, the lanes are available for all motorists regardless the number of occupants.
HOV lanes are designed to reduce congestion and improve safety, air quality and travel time reliability.
---
What's happening on Interstate 75 RIGHT NOW! I-75 Real-time traffic information for selected cities along I-75. Maps show updates on road construction, traffic accidents, travel delays and the latest traffic speeds. Traffic cameras show congestion at a glance. Visit I-75 Traffic.
---
The I-75 Exit Guide is the Internet's largest and most complete website dedicated to Interstate 75 travelers. Find detailed exit service listings… lodging, camping, food, gas and more for every exit from Michigan to Florida!
On the road? Why not take us with you. The I-75 Exit Guide is mobile-friendly and totally FREE. No App Required.
Traveling another route? Visit our growing family of exit guides:  I-4 Exit Guide, I-5 Exit Guide, I-10 Exit Guide, I-75 Exit Guide, I-80 Exit Guide and I-95 Exit Guide. Detailed exit service listings… discount lodging, camping, food, gas and more for every exit along the way!