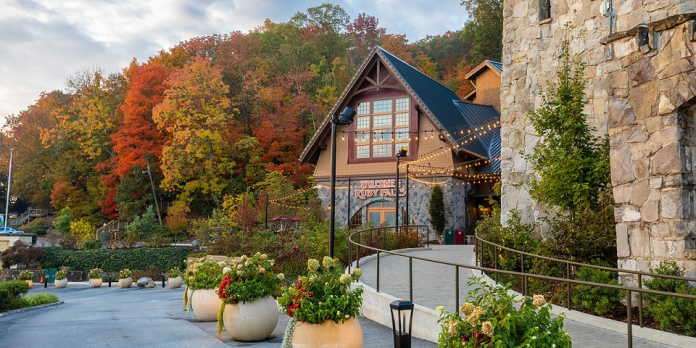 As part of the multi-year milestone transformation of historic Ruby Falls, a new cinematic experience has opened, with the launch of a new specialty tour March 1. The additions bring new opportunities to the home of the tallest underground waterfall open to the public in the United States. The expansion is planned to continue through 2022.
"The Story of Ruby Falls" is a short-film sharing the decade-long dream and love story behind the chance discovery of the cave and waterfall in 1928. The 5-minute film celebrates curiosity of the unknown, the power of love and the joy of exploration. It invites guests to take their own unexpected journey to discover the beauty and mysteries of nature.
The new "Gentle Walking Tour" is a first-of-its-kind experience with senior-level guides leading a slower-pace journey along the cavern trail to the waterfall. Guides share fascinating stories from Ruby Falls' eclectic history and explain how science and nature created the cavern's ancient geological formations. The tour is offered on select dates year-round after the inaugural March 1 tour. Each tour is limited to a small number of participants and advanced reservations are recommended.
The first phase of Ruby Falls' expansion launched in 2017 with a new waterfall lightshow and the opening of new venues.
For more information, visit www.rubyfalls.com.
About Ruby Falls
A historic landmark, Ruby Falls is home to the tallest and deepest underground waterfall open to the public in the United States. Over half a million guests visit the thundering waterfall annually enjoying guided cave tours, award-winning special events and sweeping views of the Cumberland Plateau from historic Lookout Mountain Tower and Blue Heron Overlook. Committed to cave conservation and environmental sustainability, Ruby Falls is the first attraction in the United States to earn certification from Green Globe, the internationally respected standard for environmental sustainability. Ruby Falls was honored to receive the 2019 Governor's Environmental Stewardship Award for Excellence in Building Green and is recognized as a leader in tourism sustainability. www.RubyFalls.com